Leh Ladakh, the land of high passes is a region administered by India as a union territory at an altitude of 11,562 feet above sea level located in the valley of the upper Indus river…

Leh Ladakh is also a constituting part of the larger Kashmir region, which has been the subject of dispute between India, Pakistan, and China since 1947. Yet, it is so far removed from what one expects of Kashmir, both in terms of geography and culture.

Ladakh has the world's coldest desert, glaciers and freezing winds shaping the raw landscape.

In August 2019, the Parliament of India passed an act by which Ladakh became a union territory on 31 October 2019 making it the largest and the second least populous union territory of India. Ladakh is majorly known for its great Himalayan, Karakoram, Zanskar and Ladakh ranges and for remote mountain beauty, studded with monasteries and stupas. 
In this article, we will go through the best places to visit in Leh Ladakh
Best Places to visit in Leh Ladakh 2022
#1 Shanti Stupa
Built-in 1991 by Japanese Buddhist Bhikshu, Gyomyo Nakamura and part of the Peace Pagoda mission. Construction of the Shanti Stupa began in April 1983 under the supervision of Bhikshu Gyomyo Nakamura and Kushok Bakula, a lama of Ladakh from New Delhi.

The stupa is built as a two-level structure, features the photograph of the current Dalai Lama with the relics of the Buddha at its base, The first level features the central relief of Dharmachakra with deer on each side.

The second level has reliefs depicting the "birth" of Buddha, the death of Buddha (mahanirvana) and Buddha "defeating the devils" while meditating. The Shanti Stupa overlooks the city of Leh, providing panoramic views of the city, the village of Changspa, Namgyal Tsemo in the distance and the surrounding mountains
How To Reach Shanti Stupa
Shanti Stupa is a 5 kms drive from Leh city centre approximately 12-13 minutes drive.
Best Time to Visit Shanti Stupa
During summers starting from April to July but it is accessible throughout the year and the preferred and recommended time to visit Shanti Stupa is by evening.
Important Things to Keep in mind
Please remove your shoes before entering the stupa.
Smoking is a Finable offence.
Do not litter around , keep it clean.
Require a bit of trekking so stay hydrated.
Visit during evening time, when the sun is about to set. The view from above is amazing and a treat to your lens.
#2 Hall of Fame – War Memorial
Built-in 1986 by the Indian Army in the memory of our brave soldiers who laid down their lives defending the motherland in the Indo-Pak wars. Located on the Kargil- Leh highway NH1 almost 4kms from Leh city centre.

The museum is two-storey and is divided into various sections. The upper section is named as OP Vijay Gallery consisting of weapons used in the Kargil war, along with the various arms and ammunition captured by the Indian Army during the war, it also has another section that has various kinds of apparel and amenities used by the Indian Army in the Siachen region have also been displayed.

There is much more to explore inside the Hall of Fame museum, our personal favourite wall named "The Last Post". It has the letter written by Captain Vijayant Thapar to his parents some days before he attained martyrdom, giving a sense of grief and pride, while your eyes well up with tears.
How To Reach Hall of Fame
Hall of Fame is 4kms away from Leh city centre on Kargil- Leh highway. Easily accessible by cab or bike.
Timing and Entry Fee – Hall of Fame
Opening Time: 9:00 am – 1:00 and 2:00 pm – 7:00 pm
Closed during lunch hours – 1:00 – 2:00
Entry Fee
₹ 25 Per Person
₹ 50 for Camera or Mobile Phone
Important Things To Keep In Mind
Take a proper tour of the Hall of Museum.
Visit every section of the museum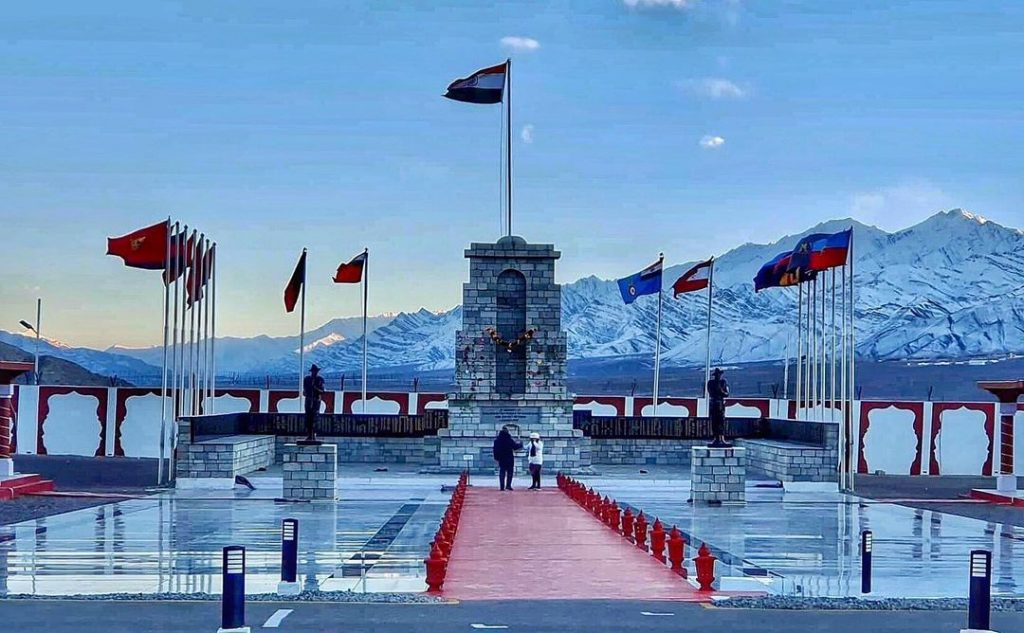 #3 Pangong Tso
Pangong Lake is the highest saltwater lake spanning eastern Ladakh and west Tibet situated at an altitude of 14,000 feet above sea level lying almost on the Indo-Chinese border a part of it falls in India covering a total area of 604 km square. Pangong lake derives its name from the Tibetan word, "Pangong Tso", which means "high grassland lake".

Pangong Tso is popular among the other lakes in the Ladakh region because of its breathtaking beauty and being a delicate border point along the Line of Actual Control.

The mountain with their gradual slopes structure make Pangong Tso much more beautiful and can be a treat to your lens. The Pangong Tso Lake is a breeding ground for different types of birds, including migratory ones.

During the summer, the bar-headed goose and Brahminy Ducks are commonly spotted. Fishes such as False Osman and Kunar Snow Trout reside in the lake. The beauty of the lake is such that it has been a cinematic backdrop for the popular movie, 3 Idiots many tourists think that the school is also situated on the Pangong Tso but the fact is that the school is in Leh City which is approx 160 km from Pangong Tso.
How To Reach Pangong Tso
Pangong lake is approx. 160 km from Leh, you can hire a cab from Leh to Pangong Tso via Changla Pass and Tangtse to Pangong.

You can also reach Pangong Tso from Nubra Valley via Khalsar and Tangtse which is approx. 274.2 km.

Detailed Travel Guide for Pangong Tso
Important Things To Keep In Mind
Always pre book your accommodation.
Carry adequate winter clothes and a medical aid ready in case of any emergencies
Altitude sickness is a very common problem on your visit to Leh or anywhere around. So the day you land Leh, make sure you take at least a day's rest so that your body gets acclimatized
Be a responsible traveler and do your best to keep it safe and clean. Avoid using plastic bags here
Do not expect any phone signals at Pangong Lake or the nearby area.
You would need an Inner Line Permit to visit Pangong Tso, and you would get the permit from Leh DC office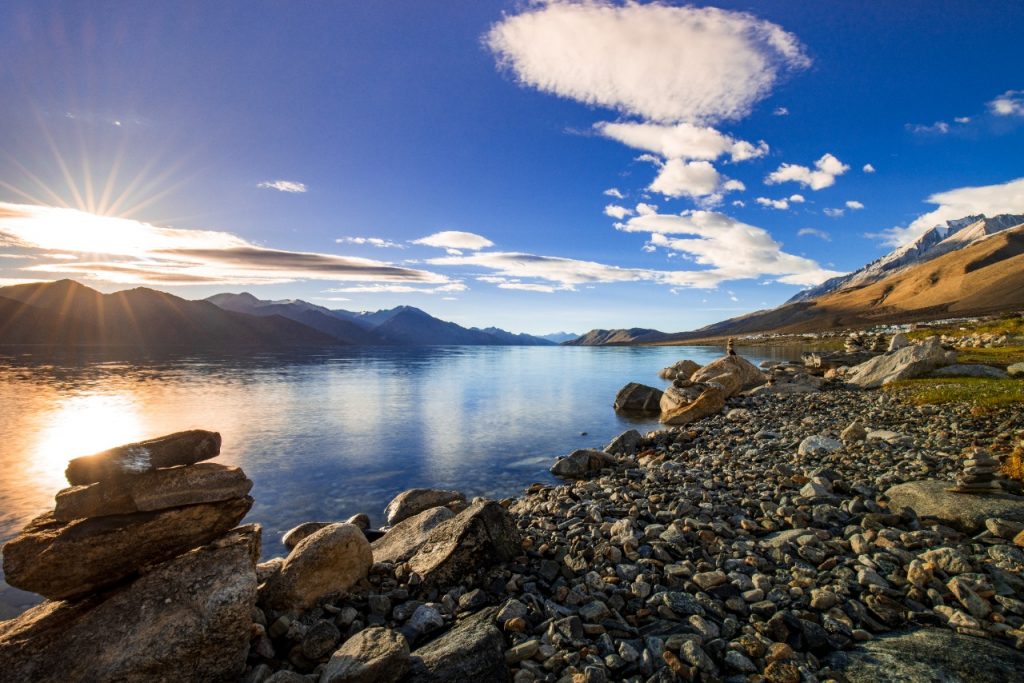 #4 Nubra Valley
Situated at 160 km from Leh, surrounded by snow-capped Himalayan ranges, Nubra valley is also known as "Valley of Flowers". To reach Nubra from Leh you will have to cross the highest motorable road in the world at 18300 feet above sea level.

Nubra valley is also famous for the cold desert between Diskit and Hunder and the desert having the double hump camels known as Bactrian camels. Nubra is important as it is a major trade centre for woollen textiles made of Pashmina wool and horticultural crops. Locals produce fruits like apples, walnuts, apricots, almonds and staple crops like wheat, barley, etc.
How to Reach Nubra Valley
Nubra is accessible from Leh which is approx 160 km and it will take around 4-5 hours to reach crossing the mighty Khardung-La pass.
Important Things To Keep In Mind
Do not Spend more than 20 mins at Khardung-la pass
Stay hydrated all the time during your journey to Nubra Valley
Get your Inner Line Permits from Leh DC office
Foreign nationals and NRIs need to acquire a Protected Area Permit (PAP)
Best time to visit May – July
#5 Khardung-La Pass
The mighty Khardung-la, one of the highest motorable roads in the world at an altitude of 18,300 feet above sea level, situated on the north of Leh and a gateway to Shyok and Nubra valleys its was built in 1976 and was opened to public motors by 1988 maintained by Border Road organisation often known as BRO, the pass is strategically important to India as it is used to carry supplies to the Siachen Glacier.

To visit this pass you would require an Inner Line Permit from Leh DC office. Khardung-la pass is a dream for many bike riders who wish to ride on the highest motorable road in the world and tick off their bucket list.
How to Reach Khardung-La Pass
Khardung-La pass is 40 kms from Leh city centre towards north of Leh, you can hire a cab from the taxi union in Leh. It is a 1 hour 30 mins ride from Leh, bus services are also available from Leh but it is highly recommended to take a cab from Leh and visit this pass.
Best Time to Visit Khardung-La pass
Best time to visit Khardung-la pass is from Mid April to Early October. It is accessible throughout the year as supplies are transferred to army base camps, but not recommended to travel after September.
Important Things To Keep In Mind
Oxygen and air level is low at Khardung-La top
Staying up for more than 20 mins is highly not recommended , as you are not used to staying at such high altitude.
Stay hydrated all the time
It is advisable to carry Diamox in order to treat Acute Mountain Sickness
Carry Inner Line Permit from Leh DC office and all the necessary documents as you will be visiting the restricted areas.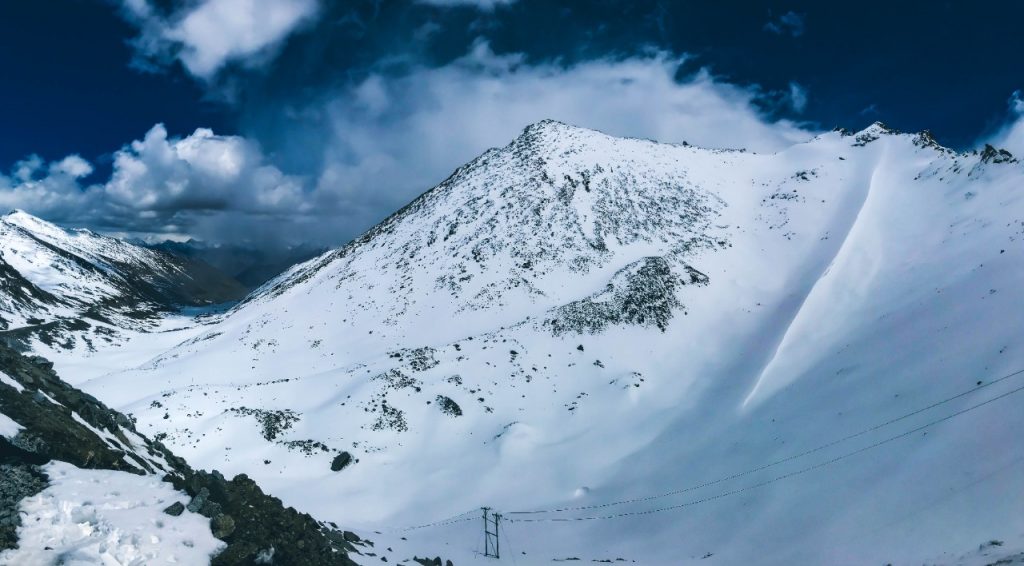 #6 Siachen Base Camp
Highest battlefield in the world at 20,000 feet where India and Pakistan have fought intermittently since 13 April 1984.

Siachen base camp is approximately 6 hours drive north from the town of Leh via one of the highest vehicle-accessible passes in the world, Khardung La at 17,582 feet and recently Siachen base camp is opened for tourists, Defence Minister Rajnath Singh announced that tourists can now visit Siachen Glacier, which is the highest battlefield and one of the most difficult terrains on Earth.

The trek opened for tourists is between Siachen Glacier's base camp and Kumar Logistics base. Siachen base has the Battle school for pre-induction training, orientation and acclimatisation for fresh troops, the base has helipads, a memorial for martyrs a medical unit and also has a launchpad for the deployment of the acclimatisation troops who are usually deployed on a 2 to 3-month stint.

The average temperature is between minus 25°C during the day and minus 55°C during the night and during winters the temperature goes down to minus 86°C with a wind speed of 300 kmph speed.
How to Reach Siachen Base Camp
Siachen base camp located in the Nubra valley of Ladakh at partapur , one can hire a cab from Leh crossing Khardung-la pass and via Panamik village and Warshi you will reach towards Siachen base camp.

Leh to Nubra via Khardungla is approx 160 kms making it a 4-5 hours journey by cab, and from hunder its 7-8 kms journey.
Important Things to Keep in Mind
You would require a special permission (ILP) from Leh office to visit Siachen Base camp, the normal Inner Line Permit issued will not work as it is valid till Sasoma maxa till Warshi.
Photography is strictly prohibited at Siachen base camp, so please respect the security of our soldiers serving at such height.
Wear good winter clothes and jackets
If you are not an Indian citizen, you will not be allowed to go any further than Warshi village.
#7 Thiksey Monastery
Built-in 1430 AD belongs to the Gelukpa order of Buddhism. Maitreya Buddha statue here is probably the most photographed statue of the Buddha of the future! The 15 m (49 ft) magnificent high statue took over 4 years to craft. Lakhang Nyerma is a Temple dedicated to Goddess Dorje Chenmo. Apart from Lhakhang Nyerma, there are a few more shrines inside the monastery complex.

About 250 monks call it home. Located to the North of the Indus River on a hilltop approx 19 km from Leh city centre. There are various sections having a distinct style of architecture which you can visit in Thiksey monastery. It is a must-visit place in Leh Ladakh
How to reach Thiksey
Thiksey is hardly 19kms from Leh city centre, you can hire a cab from union taxi stand in Leh and can cover few other places along with Thiksey Monastery
Important Things To Keep In Mind
If you wish to visit Thiksey during Leh Ladakh festivals then the best time to visit is during October and November.
There is an Entry fee of ₹ 20 for both Indian and foreigners and it is open on all days from 7 am to 7 pm.
Keep your phones on silent mode and strict silence to be maintained.
You cannot carry food items inside the monastery
You need special permission for Videography , however you are allowed to click photos.
#8 Hemis Monastery
Situated around 45 km to the south of Leh built-in 1630, Hemis is different from the other important monasteries of Ladakh. The Hemis Monastery also has an important library of Tibetan books and a very impressive and valuable collection of Thangkas, gold statues and Stupas embedded with precious stones.

One of the largest Thangkas is displayed every 12 years during the Hemis Festival, held for two days in June-July.
The best time to visit Hemis Monastery is during Hemis festival which is dedicated to Lord Padmasambhava (Guru Rinpoche). The festival takes place in a wide and open rectangular courtyard in front of the main door of the monastery. The best part is the mystic mask dances referred collectively as chams Performance, essentially a part of TANTRIC tradition, performed only in those gompas which follow the Tantric Vajrayana teachings.
How to Reach Hemis Monastery
Hemis is 45 kms south of Leh on Leh -Manali highway. Hemis monastery opens at 8:00 am in the morning and closes at 6:00 pm and closes for 1 hour between 1:00 pm – 2:00 pm in the afternoon.
Important Things to Keep in Mind
Photography is not allowed inside the prayer hall and museum.
Take a proper note of timings to visit monastery
#9 Hemis National Park
Hemis National Park Hemis High Altitude National Park is a national park situated in Easter Ladakh region, Its famous around the world for Spotting snow leopards. Hemis is believed to have the highest density of snow leopards.

It is the only National park that is towards the north of Himalayas and is one of the biggest protected regions. Snow leopards are difficult to spot because they blend so well amongst the snow-clad mountains. Hemis national park is home to mammals like Snow Leopards, Tibetan Wolf, Eurasian Brown Bear, Red fox, Himalayan marmot, mountain weasel and the Himalayan mouse hare.

Established in the year 1981, this park gets its name from the famous monastery, the Hemis Gompa in Ladakh. Apart from the surreal landscapes, this park boasts of almost 11 species of fauna and 30 species of avifauna, with the major attraction being the snow leopard. You can also get to explore the vegetation of Ladakh, which comes in different varieties.
How to Reach Hemis National Park
After landing in Leh via flight, you can reach the Hemis National Park via a bus or by hiring a private vehicle. Several buses ply between Leh to Hemis on a regular basis, so you can hop in any one of them. If you want this journey to be an adventurous one, you can trek all the way to this park from Spituk village below Leh and pass through Zingchen and the Markha Valleys. Do make sure to carry all your trekking essentials in order to avoid any hassles.
Detailed Travel Guide for Hemis National Park
Important Things To Keep In Mind
A permit is needed from the Wildlife warden.
The majestic snow leopard is not easily visibility in hemis national park .it upto luck game
The best time to do trek is in the month of May mid to early October
Stay hydrated all the time.
Take a proper note of weather conditions up there.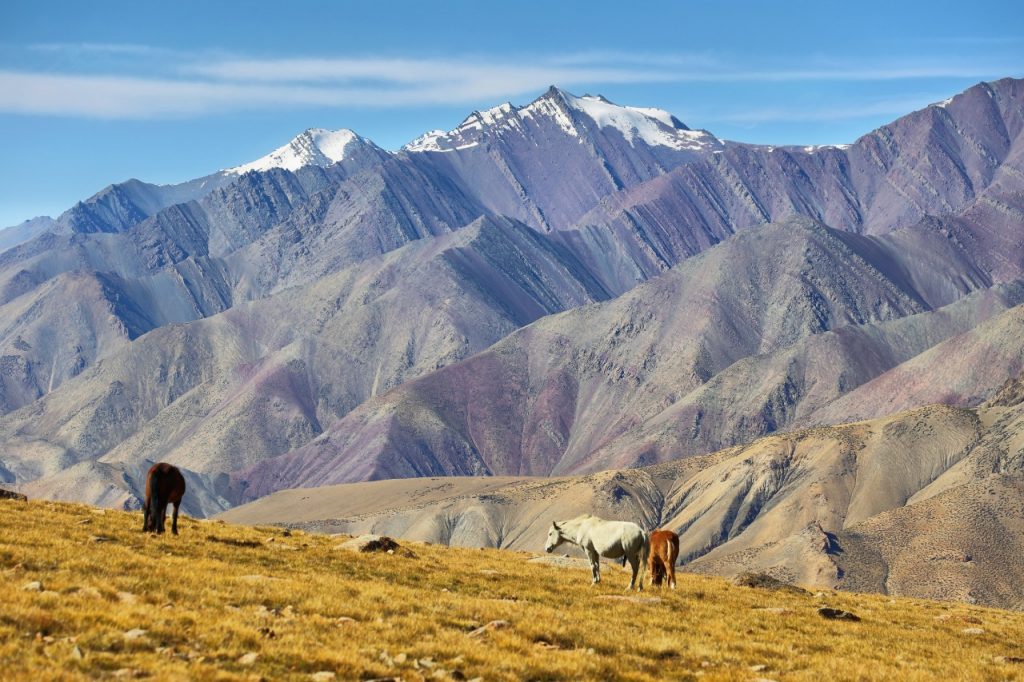 #10 Indus Zanskar Confluence
35 km from Leh on NH1 near the village of Nimmu, if you are in Leh this is the place which you cannot afford to miss. The Indus river is one of the largest rivers in Asia and was the lifeline of the great Indus Valley Civilization it flows through the Indian state of Jammu &
Kashmir and along the length of Pakistan to the Arabian Sea, and Zanskar river meets the Indus river at Nimmu and is popularly known as Sangam or Confluence Zanskar rises from Doda River in Leh, Ladakh and flows in West to East direction.

You can also do river rafting on the Indus river with different rapid grades. During winters the Indus Zanskar river freezes and Chadar Trek is organised starting from Mid Jan till Early February depending upon the weather conditions.
How to Reach Indus Zanskar Confluence
Indus Zanskar confluence is 35 kms towards Kargil-Leh highway on NH1, you can hire a cab or rent a bike from Leh.
Important Things To Keep In Mind
Acclimatize properly ,AMS is sure to hit even the most experienced travelers, as the altitude is high and vertiginous.
If you are going for river rafting listen carefully to the instructions given by the service providers.
Do not litter around please keep your surroundings clean.
#11 Leh Palace
Leh Palace is a royal palace located in its capital town, Leh is one of the most famed tourist attractions in the entirety of Ladakh region of Jammu & Kashmir. Constructed in the 17th Century in the year 1553 by the founder of the Namgyal Dynasty, Tsewang Namgyal, completed by Sengge Namgyal known as the lion king of the 17th Century.

It was meant to serve as the residence of the royal family and lower floors consisted of stables and storerooms. In the mid 19th Century the Royal family was forced to shift their base to Stok Palace and Leh palace was invaded and captured by Zorawar Singh Kahluria of Dongra forces in the 19th Century.

The Leh palace constitutes nine storeys which had different purposes to serve back in the days of glory. It shares the resemblance with the popular Potala Palace of Lhasa, Leh Palace structure is built in that way that it appears to be cold in summers and quite warm in winters, built up of wood, sand, mud and stones.

Another treat that the palace holds for history lovers is the 450-year-old paintings, crown and jewellery are on display here. Although photography is not allowed inside the palace
How to reach Leh Palace
Located in the Old City of Leh on the Tsemo hill, 2.6 km from Leh city via centre and 4.5 km from Leh airport, and open to visitors between 8 am – 5 pm every day
Detailed Travel Guide for Leh Palace
Important Things To Keep In Mind
Don't lean against the overhanging balconies and windows
Carry a water bottle to stay hydrated as it really gets tiring while climbing up and down
Remove shoes before entering the Temple
The doors are really small. So, mind your head. Indeed, you will also find the boards quoting "Mind your head" with in the palace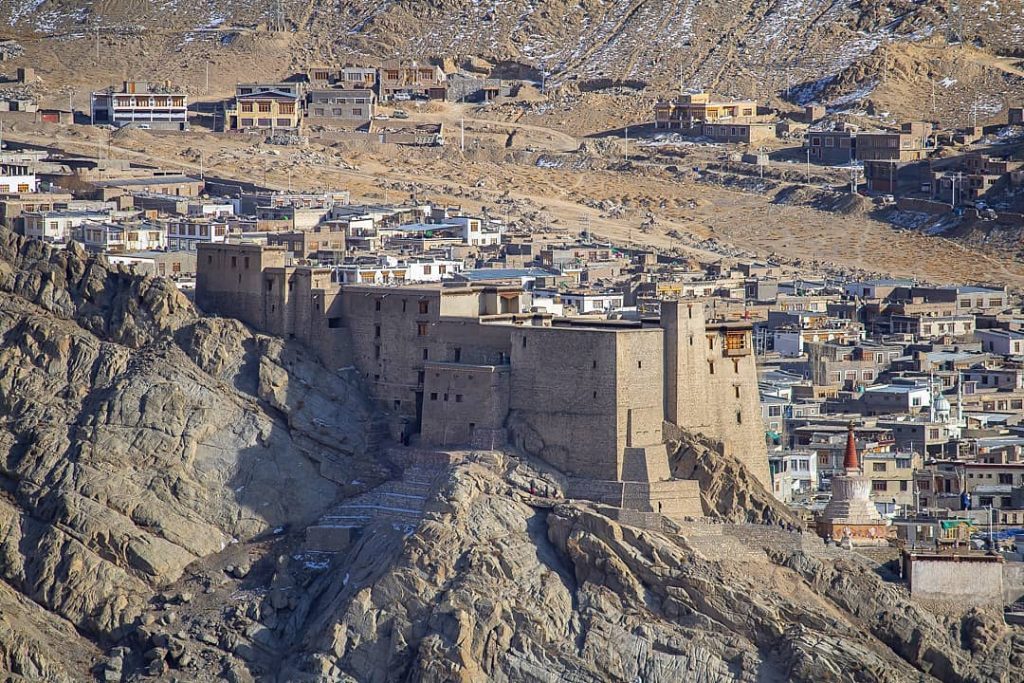 #12 Chang-La Pass
A high mountain pass in Ladakh at an elevation of 17,590 feet above sea level.The altitude making this pass one of the highest motorable roads after Khardung-La pass.Chang-la from Leh can be reached via Kharu and Sakti Village. The pass itself is about 15 kms long and is maintained by the Indian Army. There is the Chang La Temple, dedicated to Changla Baba, whose blessings are a must before crossing the pass.
How to Reach Chang-La Pass
Chang-la is 75 kms from Leh city centre enroute to Pangong lake , you can hire a cab from Leh taxi union stand and get there. And if you are coming from Pangong Tso to Leh , it is approx 149 kms.
Important Things to Keep in Mind
It is one of the highest motorable roads after sharding-la, so be prepared for some amazing experience like never before
There is the Chang La Temple, dedicated to Changla Baba, whose blessings are a must before crossing the pass.
Stay hydrated all the time, Pop in a Diamox before going up to high altitude places ( But do consult your doctor before taking any kind of medications)
#13 Tso Moriri Lake
A secluded lake in Changthang region of Leh situated at an altitude of 14,386. Tso-Morir is approx 221 km from Leh and approximately 8 km wide and 30 km long. The surroundings and a range of wildlife, including migratory birds, marmots and rarely the Tibetan wolves making this lake more beautiful and worth paying a visit.

Tsomoriri is known as Wetland Conservation Reserve and constructs anything near the banks of the lake. It is the highest Ramsar site in the world. Due to its altitude, the oxygen level is a bit low and if your body is not properly acclimatized to its high altitude then it is highly not recommended to visit.

To visit Tsomoriri you would require an Inner Line Permit as this place is very close to the LAC ( Line of Actual Control). In the months of April and May, the lake presents you the beautiful multi shades of blue colours off the shores, but it is less commercial than

Pangong Tso as the volume of tourists visiting Tsomoriri us very less. During winters the lake is completely frozen. Witness the Changing colours and fall with nature again.
How to Reach Tso-moriri
There are 3 ways to reach Tsomoriri
One is Leh to Tsomoriri via Tsokar and more plains which is approx 260 kms making it a 7-8 hours of drive by cab.
Second route is Leh – Tso Moriri via Chumathang which is approx 220 kms and the roads are quite good in condition so it will take approx 6-7 hours to reach by cab.
Third and the last option is Leh – Tsomoriri via Pangong and Chushul which is the longest route but one of the most beautiful.

Here is a suggested trip plan for you if you are planning to visit Tsomoriri
Important Things to Keep In Mind
Get a Inner Line permit before visiting Tsomoriri
The altitude makes it more windy and freezing , so plan accordingly and carry good winter clothes.
Stay hydrated all the time
Pre-book your accommodation as the stay options are limited in Tsomoriri
There is no mobile connectivity in Tsomoriri
There are no ATMs available so carry enough cash to pay for expenses
#14 Magnetic Hill
If you want to see the magic happen to you, Magnetic Hill is the best place to visit. The natural phenomena are situated 30kms from Leh, on the way to Alchi and Kargil. A sign at this spot invites you to stop your car over a white square marked on the road, switch it off and leave it in neutral.

The moment you do this, your car will start moving uphill slowly on its own at a speed of 10-20 km per hour. Isn't this magic that you wish to experience? Hit on this road and turn off your ignition and move uphill magically and magnetically!
How to Reach Magnetic Hill
Magnetic hill is a 30 mins drive from Leh city on Leh-Kargil highway and is easily accessible by cab or hire a bike to explore all the other nearby places in Leh
Important Things To Keep In Mind
The best time to visit is from May till early October
Magnetic Hill is also known as Zero Gravity place in India
Stay Hydrated all the time.
#15 Chadar Trek
Chadar trek is carried out in Leh Ladakh region, where the unusually sub-zero temperature freezes the Zanskar River. Also known as the Frozen River Trek, this is one of the toughest treks in India that many people embark upon.

Since it is only for the brave hearts, one also has to be physically and mentally strong to cover it. You will be covering a distance of 105 km on foot. Every day you will be walking around 10-15 km with your backpack on that will consist of all the crucial things that you will require on the trek. Crossing the icy boulders and the frozen river itself is a thrilling task. You will be camping in the caves at night.

Before you set out, it is best to have a physical examination done by your doctor. Since you will be trekking through dizzying heights where the oxygen levels aren't high, acclimatization is one thing that you will need to do.

The bone-chilling experience that you will seek on this trek goes beyond words.t is one of the most unforgettable experiences that you will ever seek. This is not an easy trek and many trekkers even come back halfway. So if you wish to test your strength and endurance of your mind and body, this is the right way to do it.
How to Reach Chadar Trek
If you want to go for Chadar trek then arrive at Leh and head towards Zanskar river which will be frozen and the best and suitable time for Chadar trek is January to February depending upon the weather conditions.
Detailed Travel Guide for Chadar Trek
Important Things To Keep In Mind
Pack all the necessary things which will be required for trek
It can't be stressed enough just how cold it is going to be. So, make sure you have everything you need
When you reach Leh, spend a day or two to get acclimatized to the weather. Take strenuous walks and test your thermal and trekking gear.
If you experience any major difficulty in breathing, frostbite, mountain sickness or injury, get help from the locals and other trekkers at once.
16) Siachen Base Camp
Siachen Base Camo is 65Kms away from Hunder and has recently opened up for tourists. You can experience how the Army guards our border at sub-zero temperatures.

Siachen is a day's excursion while you are staying in Nubra.
Leh General Information
Area: 98000 square km
Population: 135000
Altitude: Altitude ranges from 9000 feet (2750 m) at Kargil to 25170 feet (7672 m) at Saser
Kangri in the Karakoram
Temperature: In Summers, up to 27 degree Celsius, and in winter it is -20 degree celsius and below in the higher reaches
Best Season: May to Early October
Clothing: In Summers, light woollen clothes and in winter, heavy woollen with windproofing
Languages: Ladakhi Including Balti/Purgi,Shina/Dardic,Urdu/Hindi.
Rain-fall: 15cm,6"(annual average)
Planning a trip to Leh Ladakh get in touch with us at support@adventourist.in and we will be happy to help you with this. Hope you liked our article about the Best Places to visit in Leh Ladakh, Do let us know via comments.

Read More: Leh Ladakh Itinerary 6 Nights 7 Days