Himachal – northern Indian state in the Himalayas home to scenic mountain towns and resorts. Having the beautiful places to visit like Rohtang-La, Spiti Valley, Solang, Jispa, Jibhi and much more, there are hidden gems tucked away in this northern Indian state &
We would like to take you to less commercial and less crowded destinations in and around Himachal.
Here are 11 best offbeat places in Himachal you must visit (lates 2022 list)
1. Malana Village
An ancient Indian village in the state of Himachal Pradesh There are lots of stories about this beautiful place located in the Valley of Parvati. The most interesting fact about Malana is the residents of this village believe, they are descendants of Alexander the great.
Malana has been the subject of various documentaries, including Malana: Globalization of a Himalayan Village and Malana, A Lost Identity the language speakers were then 563, but today the population of Malana is at least three times as large as 40 years ago, few interesting facts about Malana village and villagers are that one cannot touch them or their belongings without their permission and in a difficult decision to solve a conflict, they make a deep cut in the foreleg of a lamb each of the two parties, poison it, and then sew it back with a needle.
The person whose lamb dies first is said to lose the case. Visit Malana and you'll get to know more about this beautiful place on earth.

How to Reach Malana  – Take a cab from the nearest village Jari, Malana is 12 km from Jari, one can book a cab costing around 700-800, or take an HRTC bus but the bus has a specific timing so be sure about the timing and leave accordingly
Best Time to Visit: May – June, October to February
2. Tirthan Valley
Tirthan Valley located at 5249 feet above sea level named after the pristine Tirthan river the valley offers opens the doors to the newly recognized UNESCO World Heritage Site – The Great Himalayan National Park.
A perfect place to relax away from the crowded places in Himachal. The valley is best known for its trout fishing and for the surprisingly high influx of foreigners.
How to Reach – While coming from Delhi or Chandigarh via bus, get down at Aut (which is 19 km before Bhuntar and 3 hours from Manali) and take a cab or a local bus to Banjar or Jibhi. A cab will cost you around 800-1000 INR and a local bus will charge around 40-50 
Best Time to Visit: Mar to June, October to November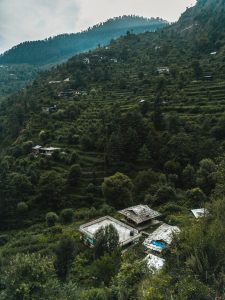 3. Chitkul
Village in Kinnaur district of Himachal Pradesh located at an altitude of 11,320 feet above sea level, mostly covered during winters. Chitkul has the cleanest air in India, one interesting fact about Chitkul is that it is the last village on the old Hindustan-Tibet trade route. It is also the last point in India one can travel to without a permit. The valley is known for its potatoes and peas of great quality. Chitkul is the start point for Lamkhaga pass trek and Borasu pass trek. Chitkul is practically the last point of the famous Kinner Kailash Parikrama as one can hitch a hike from here onwards.
How To Reach – Hire a cab from Shimla. You will pass Narkanda, Ramnagar, Reckong Peo, Sangla, Rackcham before reaching Chitkul. A bus from Shimla leaves at 6 AM every day for Chitkul and costs about INR 450/-
Best Time to visit- May – September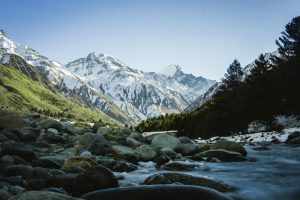 4. Pabbar Valley – Colonial Influence
Located just 80 kilometres away from Shimla and at an altitude of 13,926 feet famous for the Pabbar River that cuts through the Chanshal Mountain Range, apple orchards, majestic mountains, lush green meadows & deodar forests. The Pabbar valley is heaven for offbeat travellers who like staying away from the crowd and exploring nature. The valley is also known for adventurous activities like trekking, trout fishing jeep safaris and many more. If you wish to experience a place where man and nature live as one then you must visit Pabbar Valley. 
How to Reach – Pabbar Valley is 131 km from Shimla, one can take a cab from Shimla or take a roadways bus from Shimla to Pabbar Valley. 
Best Time to Visit – March –  June 
5. Thanedar
Details: A small village in Himachal located about 80 km from Shimla at an altitude of 8000 feet above sea level. Thanedar is famous for being home to one of the first apple plantations in the country. It is a perfect offbeat destination to spend some time away from the crowd. The temperature of Thanedar mostly remains cold throughout the year. At nights during January and February, the temperature reaches even 0 degrees. Nearby places to visit are the Nag Devta Temple, situated on the Tani-Jubbar Lake, St. Mary's Church, which is also one of India's oldest churches, and Hatu Peak, which offers a fascinating view of the Himalayan snow-clad peaks

How To Reach – You can take a cab from Shimla it will cost you around 2000 or if you want to reach Thanedar on you own then you can take the Narkanda route, Thanedar is 15 km from Narkand
Best Time to Visit – Throughout the year or if you want to experience snowfall then visit during January and February
6. Barot – Witness The Wildlife
Developed in the 1920s for the Shanan Hydel project and now a tourist spot in Mandi district. The town has a range of outdoor activities, including a trout breeding centre, from where fish are released into the Uhl river. A 30 km section of the river is used for angling.
Here there are a number of trekking trails, making it a popular hiking destination as well as a tourist destination. Barot also forms the gateway to the Nargu Wildlife Sanctuary which lies across the Uhl. The sanctuary is home to the monal, black bear and ghoral 
How To Reach – Barot is 14 km from Joginder Nagar and 65 km from Mandi. You can opt for HRTC or a private cab 
Best Time to visit – April – June & November  – February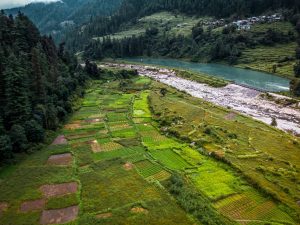 7. Gushaini – When Looking For Camping Experience
    Details: Located in the district of Kullu near Tirthan river. This is considered as the best location for camping on the banks of the Tirthan river.
The main attraction in Gushaini is National Fantastic Himalayan Park, which contains some 30 species of animals and 300 species of birds. The Himalayan National Park consists of several other attraction points which are must-visits along your trek.
How To Reach – Delhi- Sonipat-Panipat- Karnal- Ambala- Chandigarh- Swarghat- Bilaspur-Sundernagar- Mandi, you can take a bus from Mandi. However, it is recommended to inform the driver about heading to Gushaini and not Gada Gushaini.

Best Time to Visit – Throughout the year 
8. Kaza
One of the most peaceful offbeat destinations settled at the end of mountains and also the sub-divisional headquarters Spiti Valley situated at 12467 feet above sea level. The town is divided into the old, as Kaza Khas and new as Kaza. Kaza is overlooked by high mountain ridges on all sides.
It has two access points: one from Kinnaur valley and the other from the Lahaul valley, 11 km from Ki Monastery, the famous Gelugpa establishment. The greenery here is worth witnessing, making it one of the most awe-striking places in the state of Himachal
How To Reach – It is 115 km from Manali. The best option is to book a cab to complete the full circuit of Spiti Valley
Best Time to Visit: May to September
9. Fagu – Away From The City Noise
Situated at an altitude of 8202 feet above sea level located on the Hindustan – Tibet Road, a perfect offbeat destination. The clouds are so close to the surface that at times it feels as if you are walking on clouds. It is believed that Fagu has derived its name from the word 'fog'. Being situated at such a great altitude this place is always surrounded by fog, and hence, was named Fagu. 
How to Reach – Fagu is hardly 20 mins drive from Shimla you can take a bus or cab to reach Fagu 
Best Time to visit – October – February
10. Kangra – Spiritual And Natural Wonder
Kangra is one of the best offbeat places in Himachal Pradesh to visit located at 2404 feet above sea level. The Beas river flowing through Kangra and the repeated mention of the Valley in the holy Hindu texts, present Kangra as 'Devbhumi' or Land of the Gods. it was known as Nagarkot. It is said that Mahmud of Ghazni looted a fort in the region in 1009, but whether the fort of Kangra was taken or not is not yet historically verified
How to Reach – Kangra is easily reachable from Chandigarh, there are many busses and cab services available.
Best Time to Visit – September – June 
11. Naggar
The right place for those who want to have a refreshing experience amidst the hills and can be visited at any time of the year. Situated on the left bank of river Beas at an altitude of 5905 Feet above sea level. It was once the capital of Kullu kingdom. The climate in Naggar is mild. In winter, there is much less rainfall than in summer. Set against the backdrop of majestic hills and the clear and pristine Beas River, this tourist destination is ideal for people who want to relax and rejuvenate by living in the lap of nature.
How to Reach – Naggar is easily accessible through the buses run by HPTDC. These buses ply from Manali to Naggar via Khaknal. The road distance from Manali to Naggar via NH3 is 22 km (13.6 mi) while via Khaknal is 21 km (13 mi). 
Best time to visit –  Throughout the year

Adventourist is a premium travel company that plans exotic customized and personalized vacations for all category of travelers, You can visit our trips section to explore itineraries or get in touch with our travel experts on the below mention coordinates
Read More
Best Himachal Itinerary
Explore all itineraries
WhatsApp us on +91 9930400694 ( Click Here )