Bhutan a landlocked country in the Eastern Himalayas in South Asia, bordered by the Tibet autonomous region Bhutan ranks first in economic freedom, ease of doing business and peace and is the least corrupt country. Bhutan ranks first in economic freedom, ease of doing business and peace and is the least corrupt country and Paro valley extends from the confluence of the Paro Chhu and the Wang Chhu rivers at Chuzom up to Mt. Jomolhari at the Tibetan border to the North, many places to visit in Paro There are over 155 temples and monasteries in the area, some dating as far back as the 14th century.
Lets take a look at all the places to visit in Paro , a
Laid-back

second biggest city in Bhutan
About Paro
Paro is a town and seat of Paro District, in the Paro Valley of Bhutan.It is a historic town with many sacred sites and historical buildings scattered throughout the area. It is also home to Paro Airport, Bhutan's sole international airport.Now let's take a look at Paro's must and best places to visit
#1 Taktsang Lhakhang or The Tiger's Nest
The Tiger's Nest is the most iconic place that people visit when in Bhutan. Located in Paro, this place is also known as Taktsang Lhakhang and is a UNESCO World Heritage Site. The monastery situated here was constructed in 1692. The remote location and the distinctive sight of this place will astound you.Reaching this place is not for the weak-hearted as it requires one to trek for 3-4 hours. It is believed that Guru Rinpoche meditated in the 7th century A.D to subdue the demons residing in it. He flew atop the back of a tigress, who is believed to be his wife and meditated there for 3 years, 3 months, 3 days, and 3 hours. This place is located about 10kms from the main town of Paro in Bhutan.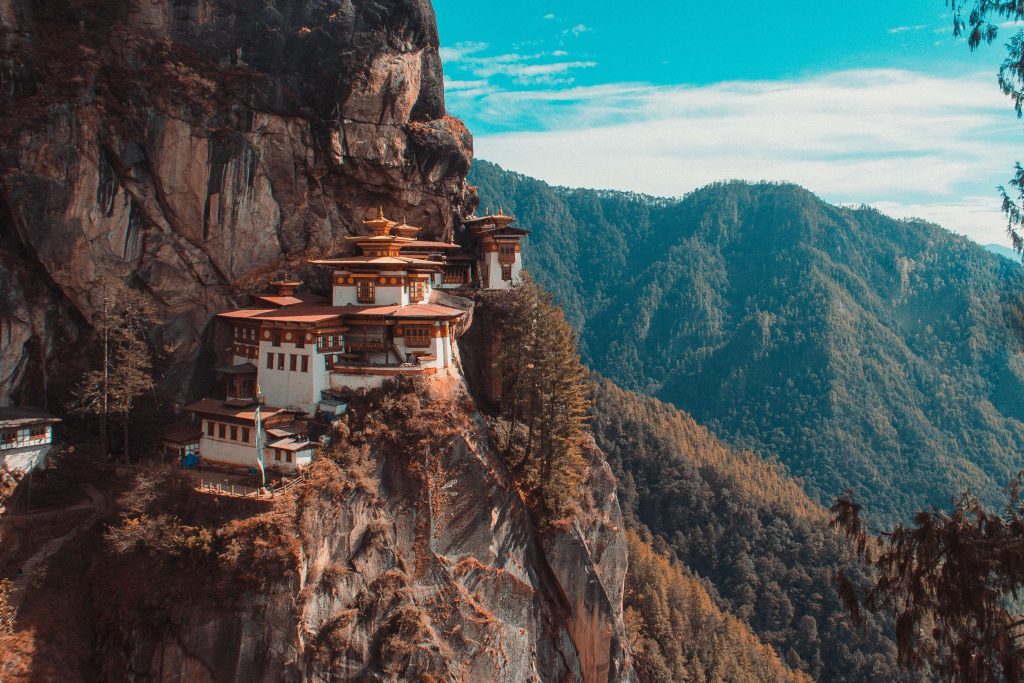 #2 Cross the Punakha suspension bridge
This is the oldest suspension bridge in Punakha and will help you get to the Chimi Lhakhang temple if you do not wish to hike there. Built over the Pho Chhu River, nobody knows how old the bridge is. Crossing this bridge is a thrill in itself.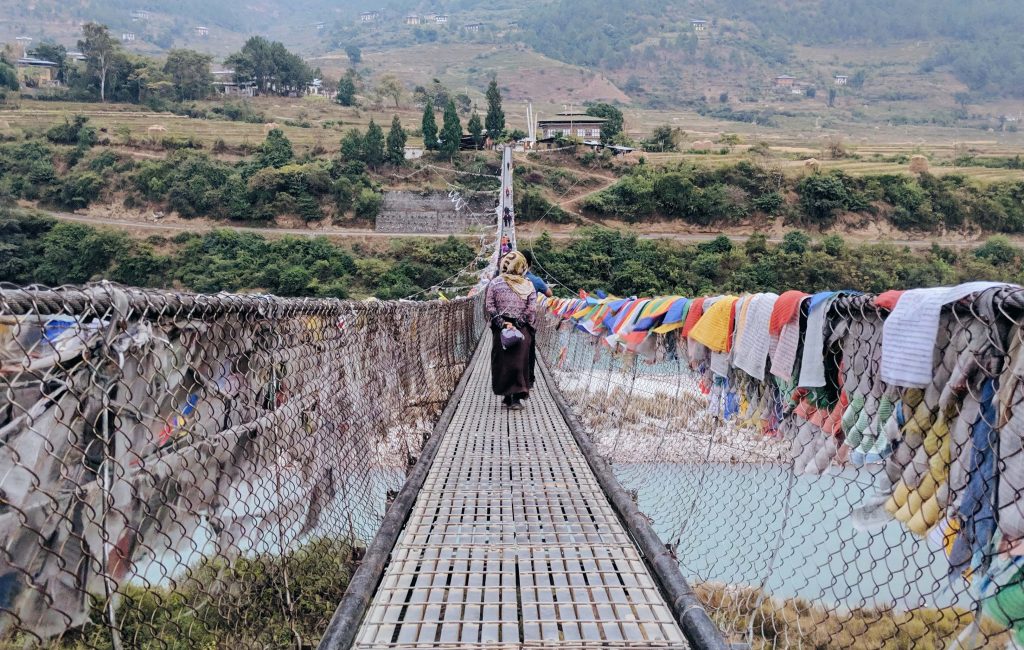 #3 National Museum of Bhutan
National Museum of Bhutan, Established in 1968, in the renovated ancient Ta-dzong building, above Rinpung Dzong under the command of His Majesty, the King Jigme Dorji Wangchuck, the third hereditary Monarch of Bhutan. National Museum has in its possession over 3,000 works of Bhutanese art. The museum was build to protect the undefended dzong. This museum perfectly illustrates how magic and science are inseparable in Bhutan. Information on Stone Age tools sits next to descriptions of battles between gods and demons. Photography and camera's are not allowed inside but you can can photograph the ta dzong and surroundings.The museum is located 3 km from the city center and it is open from 9 am to 5 pm.
#4 Paro Craft Market
For all the shopaholics , Paro craft market is one of the best places to visit in Paro, who need to do some shopping for some local authentic stuffs you can enjoy shopping at more than 80 stalls in the city street. Get yourself Genuine Bhutanese handicrafts , paintings, wood carvings, sculptures, gold and silver ornaments etc either for your very own home or as trinkets. It is located in the city center and is busiest between 6.30 to 10 in the morning, so plan accordingly.
Whenever you visit Bhutan, these are must things to do in Bhutan. In case you need help to plan a trip to Bhutan get in touch with us at support@adventourist.in and we will be happy to help you with this. Hope you liked our article about things to do in Bhutan, Do let us know via comments
Suggested trip Plan for Bhutan: The Wallpaper Tour Bhutan 7 Nights and 8 Days