About Pangong
Pangong Tso or Pangong Lake is the highest saltwater lake spanning eastern Ladakh and west Tibet situated at an altitude of 14,000 feet above sea level lying almost on the Indo-Chinese border a part of it falls in India covering a total area of 604 km square.

Pangong lake derives its name from the Tibetan word, "Pangong Tso", which means "high grassland lake". Pangong Tso is popular among the other lakes in the Ladakh region because of its breathtaking beauty and being a delicate border point along the Line of Actual Control.

The mountain with their gradual slopes structure make Pangong Tso much more beautiful and can be a treat to your lens. The Pangong Tso Lake is a breeding ground for different types of birds, including migratory ones.

During the summer, the bar-headed goose and Brahminy Ducks are commonly spotted. Fishes such as False Osman and Kunar Snow Trout reside in the lake. The beauty of the lake is such that it has been a cinematic backdrop for the popular movie, 3 Idiots many tourists think that the school is also situated on the Pangong Tso but the fact is that the school is in Leh City which is approx 160 km from Pangong Tso.
History of Pangong Lake
Pangong Tso has a rich historical background which adds to its dreamlike beauty. In the 17th century, Deldan Namgyal the king of Ladakh had supported Bhutan in the Tibet-Indian war.

The Tibetians had responded with a military attack on Ladakh and the king of Ladakh, Deldan was unable to fight them and sought assistance from Mughals, who agreed but on a condition that the kings convert to Islam.

The Ladakhis and Tibetians, however, reached an agreement in 1684 that Deldan had to give away portions of his territory to Tibet and with this, they drew the new border through Pangong Tso. Two third of the lake lies in Tibet, China where one third lies in India.

After the mid 19th century Pangong Tso was claimed to be situated on the southern end of the Johnson Line, however, this remains fluctuating from time to time.

On October 20, 1962, Pangong Tso saw military action, but the border didn't experience changes. The situation between the Indian government and the Chinese authorities regarding this division remains largely sensitive.
Unknown Facts about Pangong Lake
Pangong Lake is total 140 kms , India having 40 kms and rest lies with China
It is the highest and only salt water lake in India
Being a Saline water lake , it freezes completely during winters
There is no fish or any aquatic life in the lake, except crustaceans.
Pangong Tso is in the process of being identified as a wetland of international importance under the Ramsar Convention. It will be the first trans-boundary wetland in South Asia under convention.
A section of the lake 20 km from the Line of Actual Control is controlled by China but claimed by India! The Eastern end is in Tibet and India doesn't claim it. The Western end is disputed between India and Pakistan.
Pangong Tso has very low micro-vegetation.
The lake, at its broadest point, is around 5 km in width.
The first celluloid screen began in 1998 with the song "Satrangi Re" from the movie – Dil Se
When pangong lake freezes in winter, an ice skating festival is organised here.
How to reach
Pangong lake is approx. 160 kms from Leh, you can hire a cab from Leh to Pangong Tso via Changla Pass and Tangtse to Pangong.
You can also reach Pangong Tso from Nubra Valley via Khalsar and Tangtse which is approx. 274.2 kms.
Other Attractions nearby Pangong Lake
Spangmik Village
A small village with just seven families that make a living by rearing pashmina goats and barely during the short summer season. Situated approx. 156 kms from east of Leh on the banks of Pangong Lake giving the spectacular views of Chang Chenmo mountain ranges. Spangmik is very close to the border , the Indian Army makes sure that this place is always accessible despite the difficult winter conditions. Spangmik is exact 7 kms from Pangong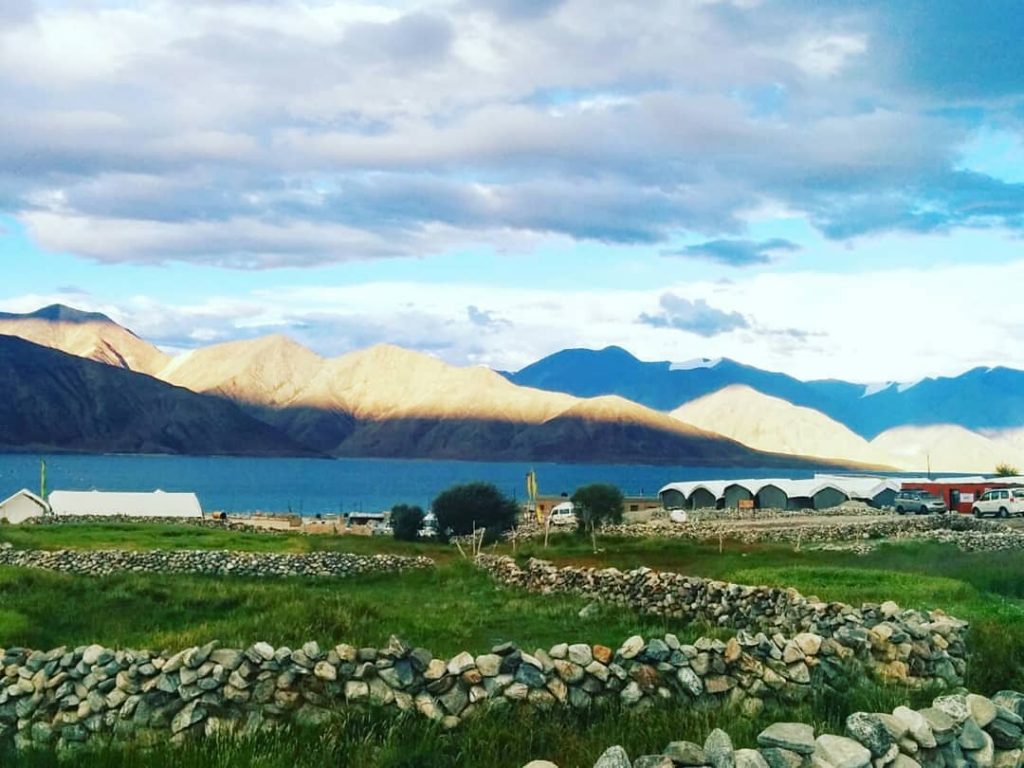 Merak Village
Situated at the snow-clad foothills of the mighty mountains in Ladakh, an hour drive from Pangong Tso. A night stay at Merak is recommended, as it makes for one of the best stargazing spots in the country.You can see a lot of vegetation in the form of bushes and trees in the village as some of it is protected by the J&K forest department.
Also there is a space observatory being constructed at a distance of 3 kms from the village.
Thiksey Monastery
Built in 1430 AD belongs to the Gelukpa order of Buddhism. Maitreya Buddha statue here is probably the most photographed statue of the Buddha of the future! The 15 m (49 ft) magnificent high statue took over 4 years to craft. Lakhang Nyerma is a Temple dedicated to Goddess Dorje Chenmo. Apart from Lhakhang Nyerma there are a few more shrines inside the monastery complex. About 250 monks call it home.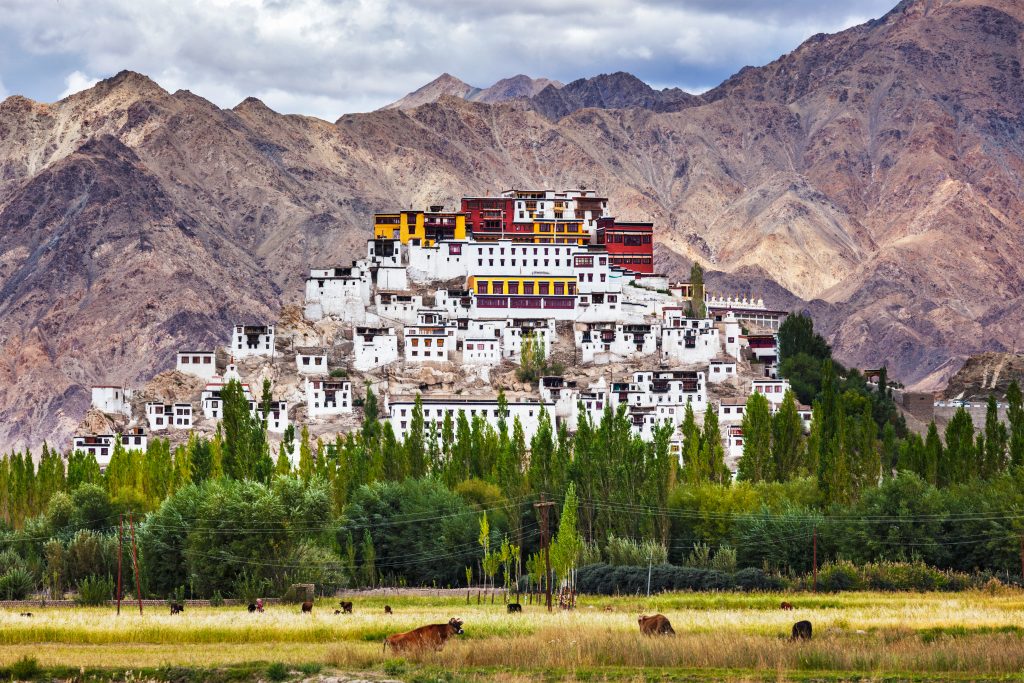 Hemis Monastery
Situated around 45 kms to the south of Leh built in 1630, Hemis is different from the other important monasteries of Ladakh. The Hemis Monastery also has an important library of Tibetan books and a very impressive and valuable collection of Thangkas, gold statues and Stupas embedded with precious stones. One of the largest Thangkas is displayed every 12 years during the Hemis Festival, held for two days in June-July.
Chang-La Pass
A high mountain pass in Ladakh at an elevation of 17,590 feet above sea level.The altitude making this pass one of the highest motorable roads after Khardung-La pass.Chang-la from Leh can be reached via Kharu and Sakti Village. The pass itself is about 15 kms long and is maintained by the Indian Army. There is the Chang La Temple, dedicated to Changla Baba, whose blessings are a must before crossing the pass.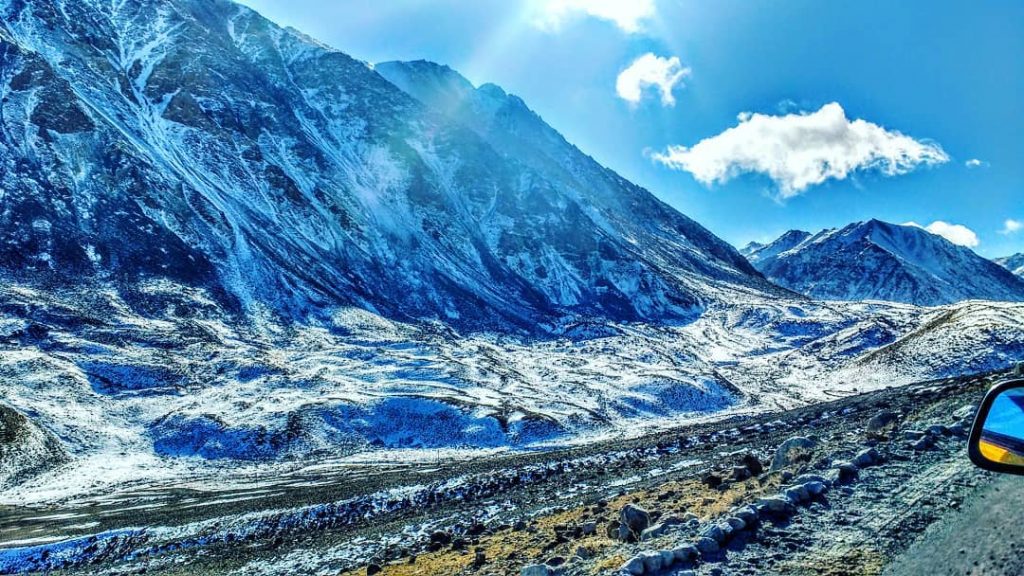 Important things to keep in mind
Always pre book your accommodation.
Carry adequate winter clothes and a medical aid ready in case of any emergencies
Altitude sickness is a very common problem on your visit to Leh or anywhere around. So the day you land Leh, make sure you take at least a day's rest so that your body gets acclimatized
Be a responsible traveler and do your best to keep it safe and clean. Avoid using plastic bags here
Do not expect any phone signals at Pangong Lake or the nearby area.
You would need an Inner Line Permit to visit Pangong Tso, and you would get the permit from Leh DC office
Where to Stay in Pangong
There are options available in terms of accommodation at Pangong Tso Hotels, Guests Houses, CampSites, Tents and Paying guest or Homestays


You'll get hot water in buckets so don't expect any geysers for hot water while staying in Pangong. Camps at Pangong Tso are the most popular accommodation choice with a sleeping capacity of 3-4 peoples and may range between 1500-3500 depending on the amenities the camp stay has.
Pre-Book you stay in Pangong TSO Lake
Where to Eat
On the entry point of Pangong, you'll find good restaurants but if you want to taste delicious and various types of specials means, you are expecting more.
There are few restaurants and cafes in Pangong Tso & if you pre-book your accommodation make sure you have included Breakfast and Dinner in the stay.
Best Time to Visit
Pangong is accessible throughout the year but the best time to visit is during summers from May to Early October. You might experience snowfall as well during this time but depends on weather conditions.
Suggested Trip Plan for Leh Ladakh
Leh Backpacking Trip 6 Nights and 7 Days
Trip to Leh for Break-seekers and Wanderers
Leh Backpacking Trip 6N_7D With Tso-moriri
How to Reach Pangong ?
There are various routes to reach Pangong Tso , the first and preferred is via Chang-La pass , the second is from Nubra valley via Shyok river route and the last one is via the Wari-La pass route.
Do I need a Permit to Visit Pangong Tso ?
Yes, a permit is must to visit Pangong Tso and it is known and ILP (Inner Line Permit ) , you can get this permit from the Leh DC office , one needs to apply a day prior to get the permit.
Best Time to visit Pangong Tso ?
May to early October is considered the best time to visit Pangong Tso.
Is accommodation available round Pangong Tso ?
Yes , there are many options to stay around Pangong. You can opt to stay in campsites, guest houses & homestays.
Is it safe to visit Pangong Tso ?
Yes , Pangong lake is controlled and maintained by Indian Army and it is totally safe to visit Pangong Tso.
How long is Pangong Tso lake ?
Pangong lake is total 140 kms longs , where India holds 40 kms and rest 100 kms lies with China.
Conclusion
Whenever you visit Pangong Tso, these are must things to keep in mind in . In case you need help to plan a trip to Leh Ladakh get in touch with us at support@adventourist.in and we will be happy to help you with this. Hope you liked our article about things to do in Spiti Valley, Do let us know via comments